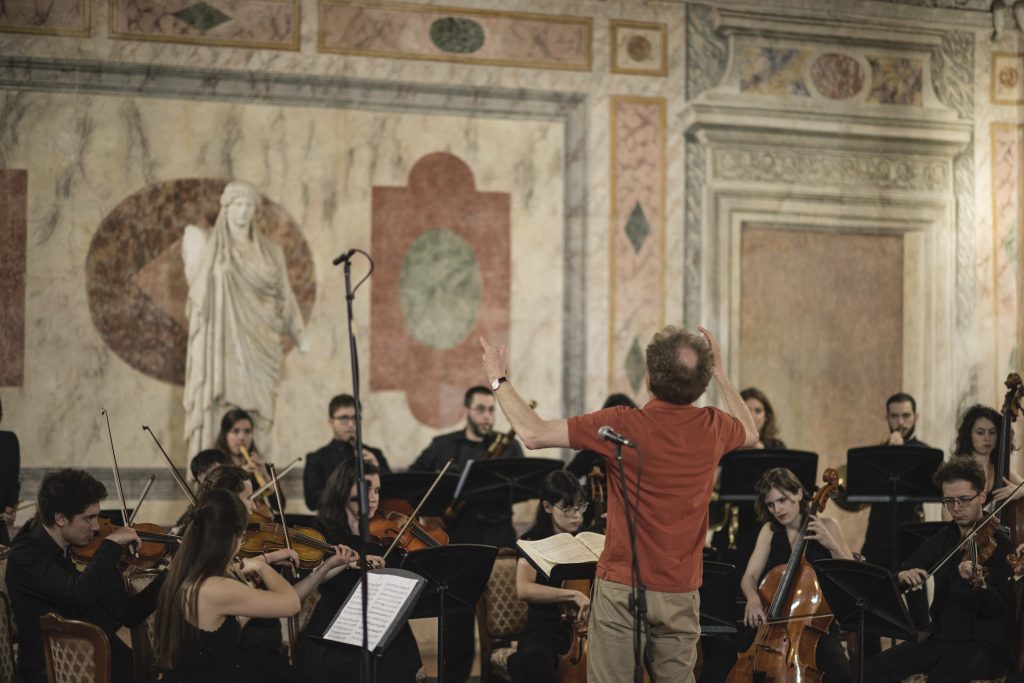 Theresia Orchestra launches new 2020 concert season
By Theresia
January 8, 2020
Theresia's new concert season starts again, with the first residence in 2020 and two concerts in January.
The first residence of 2020, the twenty-sixth, will take place in Lodi from 18th to 23rd January and will reach its climax with two final concerts; the first in Milan on 22nd January, in collaboration with Milano Classica, followed by Verona on 23rd January at Teatro Ristori.
During the two inaugural concerts, the orchestra, conducted by Alfredo Bernardini, will play a programme of pure classicism with an overture from Antonio Salieri's opera "Les Horaces", Haydn's Symphony n. 101 in G major "Clock" and the last of Mozart's Symphonies, n. 41 "Jupiter".
The programme for 2020 of Theresia's musicians will be full of activities and will see them engaged in a concert season with six residencies, eleven closing concerts, special projects and chamber music academies for strings and winds.
 2020 Concert Season
Residency 26 – Orchestral
18 – 23 January 2020 – Lodi (Italy)
Conductor: Alfredo Bernardini
Antonio SALIERI: Ouverture from "Les Horaces"
Joseph HAYDN: Symphony n. 101 in G major "Clock"
Wolfgang Amadeus MOZART: Symphony n. 41 in C major "Jupiter" KV 543
Concert on 22 January 2020 in Milan – Palazzina Liberty per Milano Classica
Concert on 23 January 2020 in Verona – Teatro Ristori
​​
Residency 27 – Strings Academy 
18 – 22 February 2020 – Ossiach (Austria)
Tutors: Chiara Banchini (violin), Marco Testori (cello)
Joseph HAYDN: String Quartet in G major op. 77 n. 1
Ludwig van BEETHOVEN: String Quartet in c minor op. 18 n. 4
Concert on 22 February 2020 in Malborghetto – Palazzo Veneziano
​
Residency 28 – Orchestral
1 – 8 April 2020 – Lodi (Italy)
Conductor: Chiara Banchini
Joseph HAYDN: Die sieben letzten Worte unseres Erlösers am Kreuze
Concert on 7 April 2020 in Ravenna
Concert on 8 April 2020 in Lodi – Chiesa di S. Agnese
​
Residency 30 – Wind & Strings Academy
19 – 24 August 2020 – Geneva (Switzerland)
Tutors: Alfredo Bernardini (oboe), Chiara Banchini (violin)
Program to be defined
Concert on 23 August 2020 in Geneva – Les Concerts de Saint-Germain
Concert on 24 August 2020 in Geneva – Les Concerts de Saint-Germain
SPECIAL PROJECT​ – Orchestral
25 – 30 August 2020 – Innsbruck (Austria)
Orchestra for Cesti Vocal Competition
Conductor: to be defined
Final Concert on 30 August 2020 in Innsbruck
​
Residency 31 – Orchestral
5 – 12 October 2020
Conductor: Giovanni Antonini
Violin: Dmitry Smirnov
Jospeh Martin KRAUS: Ouverture from "Olympie"
Ludwig van BEETHOVEN: Violin Concerto in D major op. 61
Ludwig van BEETHOVEN: Symphony n. 3 in E-flat major "Eroica"
Concerts on 11 and 12 October 2020
​
Residency 25 – Wind Academy 
24 – 29 November 2020 – Rome (Italy)
Tutor: Alfredo Bernardini (oboe)
Wolfgang Amadeus MOZART: Gran Partita K361
Concert on 28 November 2020 in Rome
Concert on 29 November 2020 in Rome – Palazzo del Quirinale
​