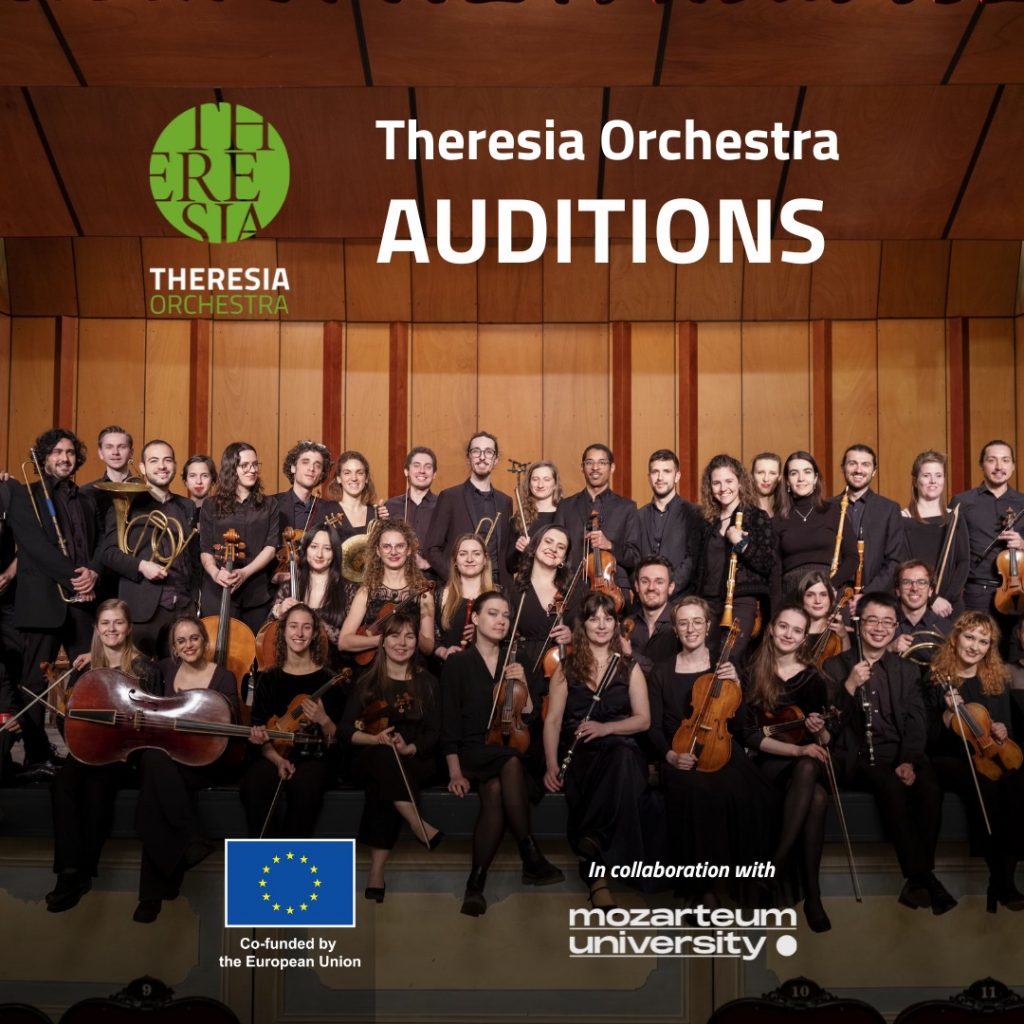 The magic of summer? The chance to travel and gain new experiences. How about adding a new orchestral experience to your CV? Theresia invites young musicians to join the orchestra and audition. Find out more about the next auditions taking place this summer!
Summer is a magical time: it is the time of year to travel, to see new places, to gain new experiences. It is also a time to recharge batteries! For us at Theresia, summer also means auditions as we look for new musicians to join the orchestra. For some years now, we have met many fantastic young period instrument players during the summer who all have one thing in common: they want to add value to their CV with a new orchestral experience that crosses borders. Why? Maybe they heard about it from colleagues, teachers or listened to some of our concerts online.  Most of all, they realised that at Theresia you can do something that is not so common: play classical repertoire on period instruments.
Theresia's auditions in Salzburg
Here some more details:
Theresia's next auditions take place from 13 to 15 July and we're looking for trumpets, timpani, oboes, horns, bassoons, and string instruments. The application deadline is Thursday 8 June.  Just like last year, auditions are organised in partnership with the Mozarteum University and will take place in Salzburg, in Austria at the beautiful Schloss Frohnburg.
Who can audition?
Any emerging period instrumentalist can join Theresia. However, there are some mandatory requirements you should know about. You need to be under 28 – born either on or after 1 January 1995 – and all candidates should be being citizens of the European Union or of the European Economic Area. Non-EU citizens may apply if they hold a residence permit for study in one of the EU countries. Candidates must have in-depth knowledge of performance practice on authentic instruments and must use period instruments or copies of them. During auditions, the use of the classical bow for strings and classical instruments for winds is mandatory.​
What's on offer?
Candidates who will be selected are offered a grant of €3000, allowing them to participate in up to five projects or so called residencies, in the period from August 2023 to November 2024. Musicians are specifically invited to participate in the learning and artistic activities of Theresia Orchestra such as the orchestral residencies, chamber music academies, and specialised workshops to improve skills and gain more experience in the performance of symphonic and chamber music repertoire of the Classical Era on period instruments. This includes the participation in the concerts and recording activities which are scheduled at the end of each orchestral residency or chamber music academy, as well as the active participation in Theresia Academy's educational activities such as the capacity building sessions, development of soft-skills, co-creation workshops, musicological seminars.
Want to know more? Download the full application form! We can't wait to hear from you to get involved in Theresia!