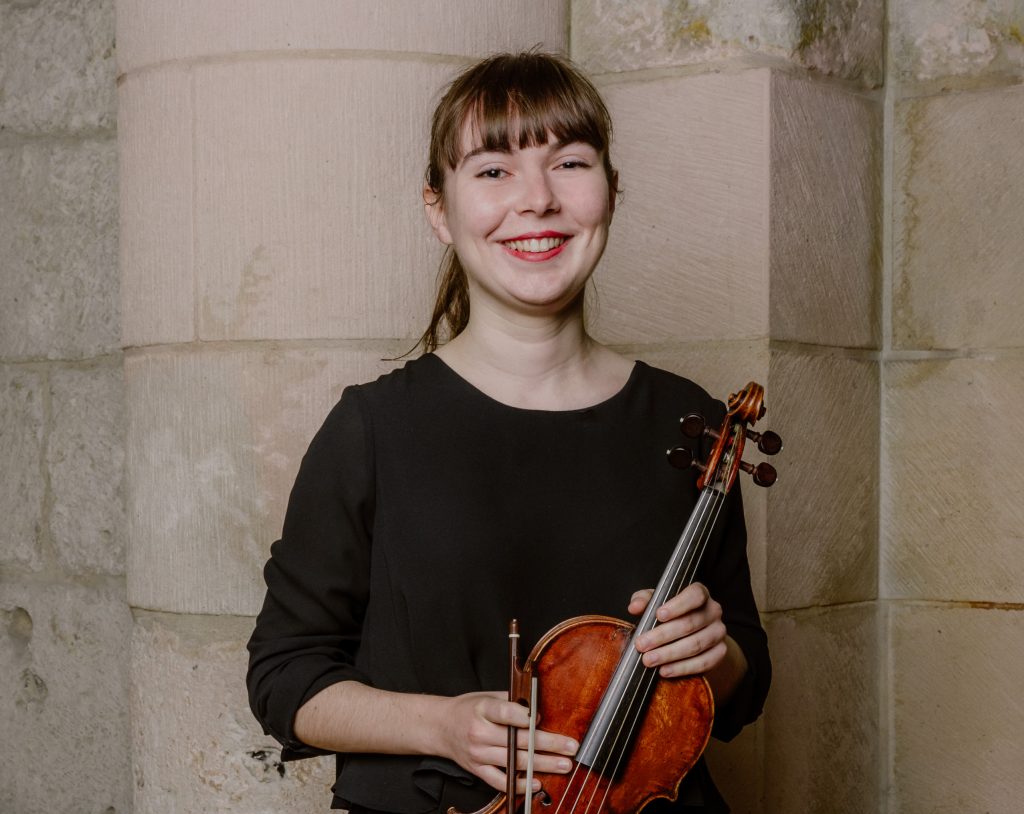 Violinist Laurène Patard-Moreau, born in France and based in Amsterdam (after three years in Canada), is one of the new members of Theresia. She spoke to us about her education, her love for music and travelling.
Laurène, how did you start playing the violin?
I started playing the violin at the age of five. I'm not sure how it came about, but I remember when I was little that we used to go to the market each Sunday morning, and there was this old man who played many instruments, including the violin. All the children were sitting around him on blankets playing percussions and trying out instruments. I have a very strong image of this memory, but I was shy and never really sat down with them to try. I think that is why I asked my parents to play the violin.
Are there other musicians in your family? Did they support your choice?
My parents are not musicians. Well, my father played the piano when he was a teenager. He even has one at home which he still from time to time, but we have never played together. Both of my parents are very supportive of me, and that means even a lot since they don't know anything about the world of music!
How did you start playing a period instrument? Do you still play the modern violin?
I started baroque violin when I was 20 years old, during my last years at the Conservatory in Toulouse, before starting my Bachelor's degree. Then, when I left for Montréal, my teacher at the University was teaching me both modern and baroque (even though I graduated in modern). And now, for my master's degree, I decided to focus on the baroque violin only.
Do you still play the modern violin?
I like switching between both instruments, but I feel I improve much more when I have time to focus on one, and I felt I needed to do that with the baroque violin. I also had to learn lots more about HIP and have to admit that I miss my modern violin sometimes! I think soon I will go back to alternating the two instruments soon. This year I also started studying jazz violin as a secondary subject, so there's a third style to bring into the mix!
And what is it like to play the jazz violin?
It is very different from modern or baroque playing. I have to learn everything again (including the way of thinking that this kind of music requires) and sometimes it feels a bit strange, but I love that. I'm really learning a new language. I had been wanting to do that for a long time but I never did: I thought that having regular lessons at the Conservatory was the perfect opportunity. And the teacher Tim Kliphuis is amazing.
You joined Theresia recently: how did you know about the orchestra and why did you decide to take part in the auditions? Had you already played in an orchestra like Theresia?
I heard about Theresia from friends and social media. I was looking for academies for this year and I thought it was exactly what I was looking for. I already played classical repertoire a few times, first when I was in the Orchestre Français des Jeunes (the french youth orchestra), we had some concerts with Julien Chauvin (who conducts now Le Concert de la Loge), we were not playing historical instruments in this orchestra, but he is specialized in this style. Then in 2020, I think, I went to Toronto for the Winter Institute of Tafelmusik Baroque Orchestra. With, by the way, Vanni Moretto that you know well in Theresia! And last summer I had the chance to go to La Petite Bande Academy for the second time, where we played chamber music from the classical period (mostly Mozart) and worked with Sigiswald Kuijken.
Your first experience with Theresia was our most recent project, with Giovanni Antonini as conductor. What did you like most about working with him?
I really loved this production. I don't know how to explain this in words, but I admire him because he has this kind of aura and confidence that makes the orchestra respect him a lot. When he walks onto the stage everyone focuses and stops chatting. And I think when you get that kind of attention and focus from everyone, you can do amazingly detailed work. He was really precise and wanted to get the best out of us.
What did you like most about the soloist, Dmitry Smirnov?
I didn't know Dmitry before, but now I will continue to listen to him. I love the freedom he has in his playing, he takes a lot of risks and makes each performance unique. He reminded me of Patricia Kopatchinskaja, who also plays to extreme contrasts, pushing the limits of madness, which I love. Playing is like theatre.
I read on your Facebook page that your violin was recently stolen! How did that happen, how did it affect your life and job? How did you cope with it?
Yes, that's true, it happened last September. It was a pretty tough start to the year. I was staying in an Airbnb and when I came back one evening, my violin just wasn't there anymore. I called the police and my insurance company, and it took me a few days to realize what really happened. The school gave me a violin, then my former teacher lent me hers, and I tried some others, but practising became really difficult because I couldn't find my sound anymore. And it's the worst timing when you are moving to a new country, and just about to start at a new conservatory with a new teacher. I felt like I couldn't show what I was capable of. The sound was not how I wanted it to be and I was not happy with it. I still haven't found my instrument back, nor found a new instrument I want to buy (I found bows though) so it is still difficult because the sound of the instrument I currently play is not really mine.
Where do you see yourself in ten years? Playing as a soloist, in a chamber music ensemble, teaching…
In ten years time I hope I will still be playing a lot and travelling around the world with my music (if climate change allows us). I would love to be part of an ensemble or a chamber music group. Actually, I like having multiple projects at the same time. I might have my own ensemble, a chamber orchestra with friends, why not?! I love leading and organizing, so I like the idea of that!
Do you have any passion or hobbies, or are you dedicated to music for 100% of your time?
Well, music takes up most of my time. Between the conservatory and my student job on the weekends, I rarely have a day off. But I love it when I just can sit on my bed with a cup of tea, write in my notebooks, and draw in my sketchbooks. I also love photography. When I travel I always take my camera and my travel journal with me.