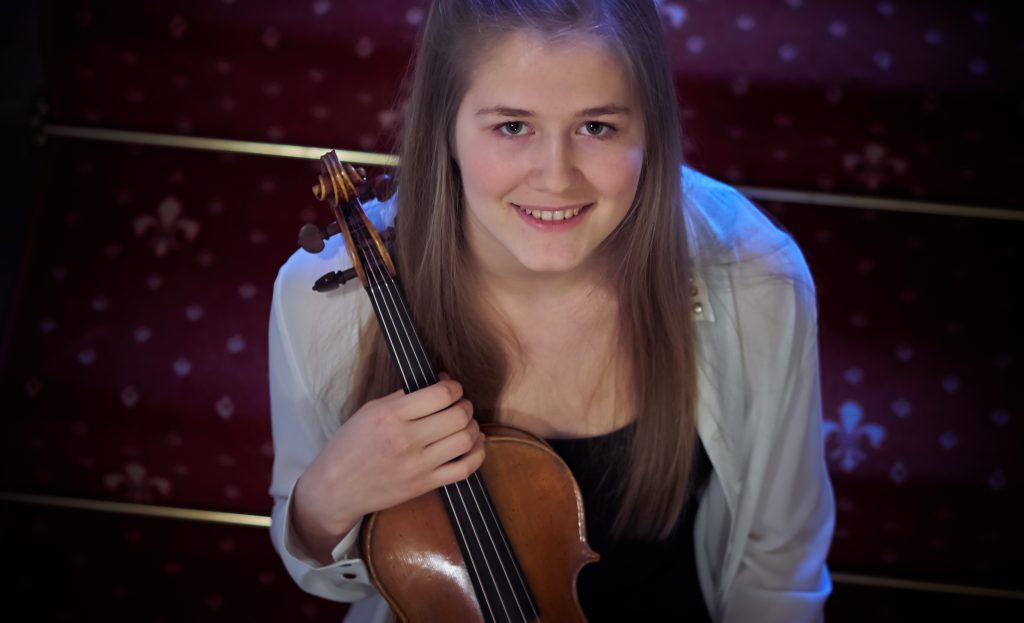 It's been a while since the last time we introduced a member of Theresia: Natascha Pichler joined the orchestra this year, and made her debut with Theresia in Geneva. Let's find more about this Austrian violinist, about her musical experiences and her expectations!
When did you start to study music? Was it a desire of yours or – as it often happens – was it an idea of your parents?
I started learning the violin when I was six years old. I had taken piano lessons previously, because my mum, who played the piano as a child, had encouraged me to. Starting the violin was my own idea. I came up with it out of the blue, I don't even remember, if there was any specific inspiration for it. One day, I told my mother: "I want to play the violin." And since then, my parents have supported me every step of the way. None of my family members are professional musicians, but they all love music.

When and how did you start to play the baroque violin? Was it a slow process, or did something trick you into it?
I started the baroque violin because at the Royal College of Music, where I did my Bachelor's degree, there was the option to have Baroque violin lessons as a second study, in addition to lessons on the modern violin. I made many friends in the Early Music department and started playing chamber music with them, just for fun. I liked the friendly atmosphere and admired how much they all knew about the different musical styles. That is how I slowly got the idea of focusing on Early Music as my main study.
What do you like more in historically informed practice?

What I like about historically informed performance is that I feel a deeper connection to the music. Knowing about a piece's origins, and about how it might have been performed back in the days, helps me identify with the music better. Drawing from different sources of information also helps me create my own personal, unique interpretation and be convinced of it.
You participated in an orchestral tournèe with a star of the violin, Anne Sophie Mutter: what did you learn after this experience?
Anne Sophie Mutter led the orchestra from her violin, without a conductor, playing a Mozart concerto. The most inspiring thing about working with her was her way to communicate with the other musicians on stage, showing us exactly what she wanted in every single passage of the piece. Even while playing difficult passages, she was always aware of what was going on around her. It was the first time that I experienced the power of non-verbal communication in music with such intensity.
How did you know about Theresia Orchestra, and why did you decide to try the auditions?
Some of my colleagues in The Hague were part of the orchestra and of course, I also saw posts about the auditions on social media. I decided to try the auditions because I had the feeling that the classical style that Theresia specializes in really suits me and also interests me very much.
Which Theresia's residencies were you involved in? What did you appreciate more about performing with Theresia?
I have been involved in three Theresia residencies so far: chamber music in Geneva, the Cimarosa opera, and chamber music in Montecastelli. I appreciate the very high level of musicianship and the professionality of all the participants. It is a pleasure to work with people who have a similar mindset as me. I also really enjoyed working with the very experienced tutors (especially in the chamber residencies) who are experts in their field. Last but not least, the Theresia community is very welcoming, and the atmosphere is friendly and supportive.
2022 is going to end soon… this was the first year that things seemed to get to normal after Covid: how was your year in that sense?
It was a big relief after Covid, which was a hard time for me personally as I started to question my value as a musician. Being able to organise concerts and play together with people again brought back my motivation and reminded me how much joy music brings me.
Do you have hobbies? How is your typical day?
My hobbies are cycling or hiking in the nature. I love spending time at the sea, which is only a short bicycle ride away from my flat. I also like reading books and learning new languages. I spend most of my days at the conservatoire, so there is not always time for hobbies. Sometimes, I do Yoga in the morning, then I go to the conservatoire and in the evenings I cook, study and socialize with my flatmates.
Recently on the blog we talked how to take care of themselves: how much is important for you, and what do you do for taking care of your well-being?
Well-being is of course very important, and something that musicians often forget. For my physical well-being, I am doing Yoga, which helps me relax, stretch my muscles and release back pain. Regarding mental health, I have little things that bring me joy which I can do whenever I am not feeling well. Going for a walk outside to get some fresh air is on top of my list, I enjoy nature because it helps me see the bigger picture when I get stuck in a certain mindset or obsessed with some problem. Other strategies are talking to family members or friends, reading or taking care of my plants.