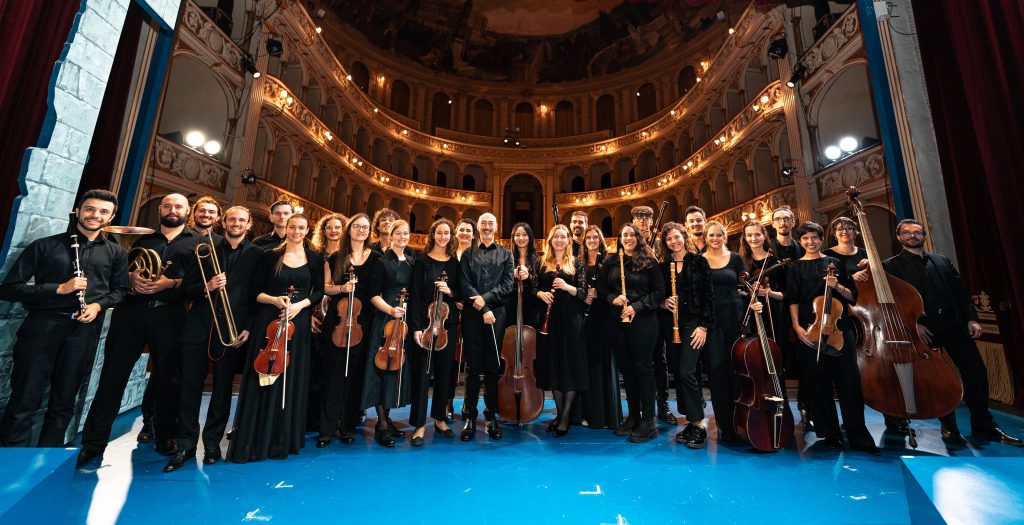 How was your year? Theresia's remarkable things of 2022
By Emilia Campagna
December 27, 2022
How was your 2022? We hope it was stunning, surprising, and full of new and exciting projects. Like Theresia's!
Yes, we are very proud and happy about the year that's about to end: and now that only a handful of days stand between us and the new year, we want to run through the remarkable things of 2022 together.
A year at full speed
With eight residencies (five devoted to chamber music, three to orchestral projects), we really got back to normal after the restrictions due to the Covid pandemic. Eight residencies mean an average of one every month and a half, and even if a residency lasts about a week between rehearsals and concerts, it takes a lot of preparation work, all done behind the scenes by our valuable staff led by artistic director Mario Martinoli and project manager Susanna Bucher. Congratulations on your excellent work!
New places, new friends
In 2022, we've been in familiar places, such as Ossiach and Geneva, but we happened also to land in new places, like Mondovì and Montecastelli, and also countries where Theresia had never performed before: like Spain! Being in Totana as part of Ecos Festival was a great experience, especially for the peculiarities of the event. Ecos Festival is devoted to music but also to sustainability and to finding new approaches to the audience, and we couldn't help but love it
Performing opera in a fairy tale place
Not only opera is an exceptional event, as Theresia is devoted mainly to orchestral repertoire, but doing it in a place such as Teatro Torlonia in Rome is breathtaking! We had the chance to being part in the production of "Le astuzie femminili" by Domenico Cimarosa, organized by Reate Festival. Teatro Torlonia is a stunning little theater in the heart of a neoclassical villa set in Rome. A few people were among the privileged to attend the event: have a glimpse of it in this beautiful photogallery.
Not only rehearsals and concerts: the Ambassadorship project
Some may think we are never satisfied and always want to go further: that's right! As a matter of fact, one of the remarkable things of 2022 was not a musical project – not strictly speaking, at least. Last July, we involved three Theresia's musicians in an Ambassadorship project as part of the EU-funded project EMPOWER. Over the course of three years, the Ambassadorship project is going to involve a total of nine young musicians, representing nine different European countries, to be Ambassadors and Ambassadresses, embodying and transmitting the core values of classical music and its importance to their countries. First to participate in the initiative were Anna Krzyżak from Poland, Léna Ruisz from Hungary, and Irina Fârtat from Romania, with the task of promoting HIP in their own countries and engaging new audiences through their own and/or Theresia's activity.
The task is not easy, and it is our job to help them, so in July we organized a co-creation workshop, involving our expert in communication and social media management: it was incredibly stimulating and inspiring. Here are some shots from the workshop:
Find more about the Ambassadorship project here.
New voices on the blog
As part of their activity, the Ambassadresses were suggested to contribute to the blog. That was a welcome breath of fresh air, with very interesting posts, from well-being to some hidden viola repertoire.
You can find all them here!
An old friend back on track
For more than 30 years, students of baroque music had looked to Eubo, the European Union Baroque Orchestra, as a reference point. But, first because of Brexit, then Covid, Eubo had ceased its activities in 2019. Now, thanks to ICONS foundations, Eubo starts its activity again: the new phase started with a concert in Ravenna, and auditions are to be announced soon! That's great news that adds happiness to all baroque music lovers. Well done, ICONS!