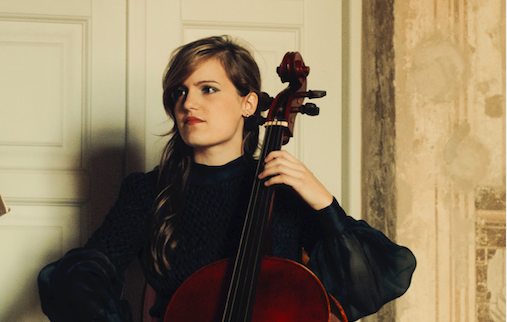 Meet Theresia – Giulia Gillio Gianetta
By Theresia
March 16, 2020
Let's meet a new member of the orchestra: Giulia Gillio Gianetta, Italian-Spanish cellist at Theresia since 2016.
Where are you from and where are you studying/working right now?
I'm half Italian and half Spanish.
I'm living in Italy since always!
How did you get to know about Theresia and how long you've been a member for?
I heard about Theresia from my teacher during a lesson at Novara Conservatory. I'm a Theresia member since May 2016!
How was the experience so far?
The experience in Theresia has always been full of emotions and learnings that made my knowledge wider; I'm talking about both teachers and other musicians.
Projects are held for one week and we stay together practically the whole day, so it becomes natural to share emotions intensively and learn from each other continuously.
Do you have a favorite 'moment' or project that you can share with us?
All the projects have been intense and "powerful", in a positive way of course, but if I would have to choose one, I know that I will always remember the concert in 2017 at Teatro Manzoni of Bologna with Chiara Banchini: we were coming from Camogli, where we had a concert with the same program the night before; the auditorium was completely full (they said a thousand seats! It was incredible to play for all that people!!!) and Chiara was playing standing in front of us, trying to be in contact with all the orchestra, but at a certain point she looked at me directly in my eyes, I was expecting to play a phrase like we did in the previous concert, but she completely changed the way of breathing, leaving me completely surprised! For sure she won't remember this fraction of second because it was really "normal" and spontaneous for her, but I still feel a chill thinking at that moment. It was truly magic!
What do you like about Theresia?
I like the opportunity that Theresia offers us to play with these great and incredible musicians; they have an enormous experience and we can "feel it"; thanks to moments like the one I just described I'm learning what it means to be a professional musician and what makes music great. It is also fantastic the continuous contact with other fellow musicians, coming from different places and with different histories to be shared.
How did your passion for period instruments begin? Do you also play modern cello?
Yes, I play both cellos because I love all the repertoire for this instrument.
The passion for period instruments began when I was little because my mother is from Daroca, a small village in Spain where every summer, since 42 years, an international course and festival of early music takes place.
I started to play cello when I was 4 years old and soon after that my teacher told me to go to listen to the lessons held by Gaetano Nasillo during that course, and so I did! I was so much fascinated by that way of playing that the next year, when I was 11, I started to attend lessons actively and I never stopped to play baroque from that moment.
Where do you see yourself in 5 years? Would you rather be a soloist, an orchestra member or have your own chamber ensemble?
I think that 5 years is a great amount of time… I don't know!
At the moment I play with different baroque ensembles in Italy, but who knows… I would like really much to become a member of a period instruments orchestra and to continue improving my experience playing with different ensembles.
Playing abroad and traveling doing what I love would be great!