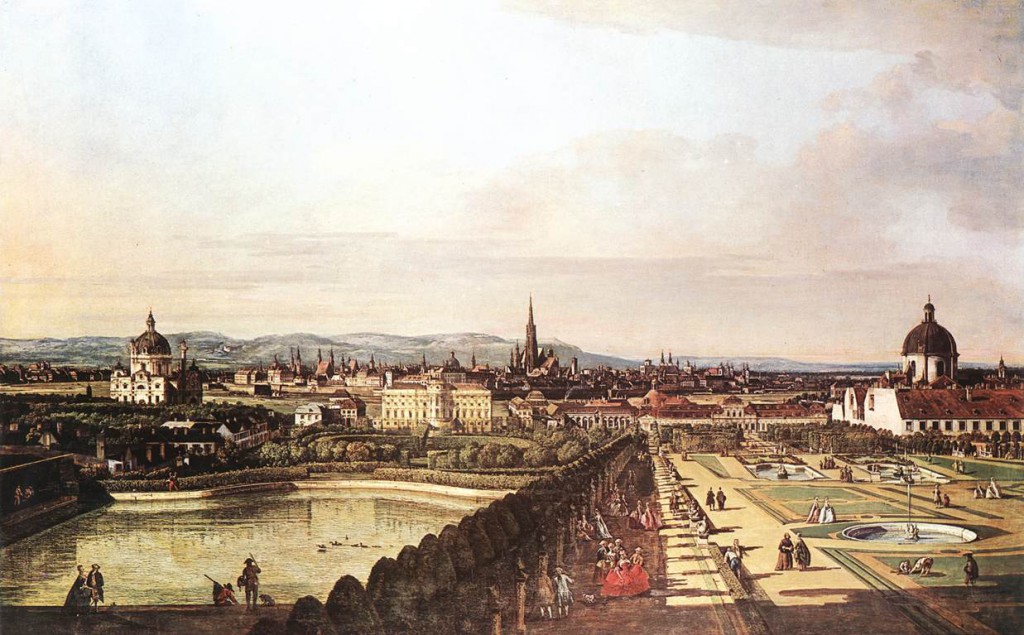 Vienna, Salzburg, Mannheim:
Theresia's musical journey at Trame Sonore
By Emilia Campagna
May 23, 2019
We are about to embark on an enlightening musical journey: it will bring us and our audience through the three main towns when it comes to Classicism: Vienna, Salzburg and Mannheim. And yet, nobody will have to leave at all the beautiful centre of Mantua, where we will be hosts of "Trame Sonore – Mantova Chamber Music Festival".
Music is constantly appreciated as the most powerful way for time-travelling: this is even truer for orchestras that, like Theresia, perform on period instruments, deepening the historical performance practice.
So, this time we are headed for the very roots of Classical style, in search of the origins of Symphony and Sonata form.
Mannheim is considered to be a true school of classical style, thank both to the orchestral techniques pioneered by the court orchestra of Mannheim in the latter half of the 18th century and to the group of composers of the early classical period, who composed for the orchestra itself. The orchestra had an excellent reputation, due to its excellent discipline and the individual skill of its players; the English traveller Charles Burney called it "an army of generals". The father of the school is considered to be the Bohemian composer Johann Stamitz, whose Symphony in F major n. 6 will be performed together with F. X. Richter's Symphony in G major VB 19 (concert on 1st June at 4.30 pm at Palazzo Ducale, Galleria dei Fiumi).
Since it was an imperial capital, Vienna was one of the main centres of musical life in Europe: the Viennese Classical school is nowadays best associated with the names of Mozart and Haydn, but the very transition from Baroque to Classical style was due to composers like Georg Matthias Monn. Monn, who was born in Vienna in 1717 and died in the same city in 1750, represents a school of Austrian composers who had thoroughly studied the principles of counterpoint as practised by Johann Sebastian Bach, but also effected a change from the formalistic and ornate Baroque style to the simpler, more graceful Galante music. Moreover, they renewed the sonata form by expanding the concepts of secondary theme and development. Even Czech-born composers Johann Baptist Wanhal and Josef Mysliveček (both born in the 1730s) are important representatives of the new style. Furthermore, many of Wanhal's symphonies are in minor keys and are considered highly influential to the "Sturm und Drang" movement of his time. And, is renowned the influence that Josef Mysliveček had on the young Mozart. Monn, Vanhal and Myslivecek will be performed in our "Vienna" concert on 2nd June at 9 a.m. (Palazzo Te) and 10.30 p.m. (Palazzo Ducale).
Last but not least, Salzburg was obviously the town where Wolfgang Amadeus Mozart was born and where he started his career as a court composer to the Archbishop Hieronymus Colloredo: in 1772, when he was sixteen he wrote three Divertimenti after the second of three extended trips to Italy. A final trip to Italy was already in the planning and the Italian influence on Mozart's writing is strong. The three-movement structure follows the pattern of the Italian Sinfonia, while the writing also nods in the direction of the widely respected Joseph Haydn and Johann Christian Bach – whom Mozart had met in London and whom he regarded as both friend and mentor. String Divertimentos n. 1 in D major and n. 3 in F major will be performed on 30th May at 9 a.m. and 10.30 a.m. (Teatro Bibiena) and on 31th May ah 10.30 a.m. (Galleria dei Fiumi di Palazzo Ducale).
Theresia's strings will be conducted by Claudio Astronio with Gemma Longoni as violin concertmaster.