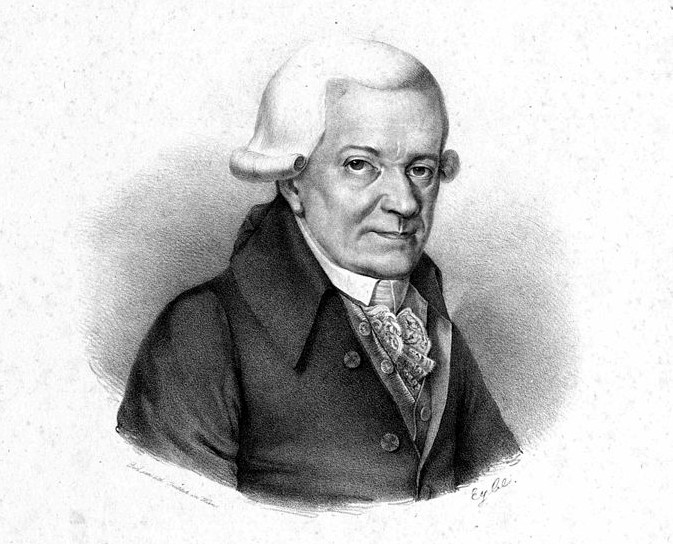 Rediscovering Michael Haydn: an interview with David Wyn Jones
By Emilia Campagna
March 31, 2019
Among Classical composer, the name of Haydn is one of the most familiar, isn't it? This is true when you think of Franz Joseph Haydn. It's not the same when it comes to his brother, Michael, who was born in 1737 and died in 1806 in Salzburg. As a matter of fact, Michael Haydn's fame is now considerably overshadowed by that of his older brother, but he was a prolific composer who in his day was much admired and was the teacher of such notable composers as Carl Maria von Weber, Anton Diabelli and Sigismund Neukomm.
In its relentless exploring of the Classical symphonic repertoire, for the first time Theresia will perform a Symphony by Michael Haydn. To deepen the subject, during the preparatory stage, our musician will attend a lecture by Professor David Wyn Jones, one of the major experts on these issues.
David Wyn Jones, is Professor at the School of Music of Cardiff University, and was Head of School March 2008 – July 2013. His main interest lies in the music of the Classical Period, in particular Haydn, Beethoven and Vienna, and in aspects of music dissemination and publishing. He was a member of the core group for the international project, 'The Circulation of Music, 1600-1900', sponsored by the European Science Foundation (2000-04). He has recently been appointed to advise on a new project, Concert Life in Vienna 1780-1830: Performances, Venues and Repertoires. Based at the Institute for Musicology at the University of Vienna, the oldest musicology department in the world, the project aims to provide a public, searchable database of private and public concert life in the city, including virtual recreations of performance spaces. Professor Jones has been appointed as one of seven members on the Scientific Advisory Board that will oversee the project, provide advice and review projects. He is the only panel member selected from outside Austria and Germany.
Professor David Wyn Jones, in your lecture you will speak about "Michael Haydn and Mozart: a forgotten musical relationship". Which were the terms of their relationship and why has it been forgotten?
"Michael Haydn, Leopold Mozart (Mozart's father) and Wolfgang Amadeus Mozart were colleagues at the court of the Archbishop in Salzburg. They would have seen each other on an almost daily basis, participated in performances of each other's music in private and in church services. Like all true friends, they shared gossip and the Mozart family letters contain more than one account of Michael Haydn's fondness for drink. But there is no doubt that he was a formative influence on the young Mozart, writing symphonies, concertos, serenades, church music and opera."
Did Michael Haydn's musical style influence Mozart's and how?
"This might seem a rather uninspiring thing to say but Michael Haydn's music has a thorough competence of technique as well a real sense of theatre (in the broadest sense) that is reflected in Mozart's music. One of the many unfortunate legacies of nineteenth-century biographical writing is the excessive focus on the Wunderkind Mozart and the Incomparable Genius Mozart. In Salzburg, if not throughout his life, Mozart was writing in a lingua franca and many of the features of that language are to be found in Michael Haydn too. That Mozart recognized Michael Haydn's mastery is suggested by a letter he sent to his father from Vienna, asking for the latest symphonies of Michael, so that he could perform them in that city. For one symphony, Mozart added a slow introduction, and for many years scholarship thought the whole work was by him, No. 37 in G major (K.444); No. 38 was the 'Prague' symphony."
What do we know about Michael Haydn's relationship with his brother, Joseph?
"Michael Haydn was five years younger than Joseph and for many years their careers ran in parallel: choirboys in Vienna, freelance musicians in Vienna, composers and performers of church music and employment at aristocratic courts, Michael at Grosswardein (in present day Rumania) and Haydn at the Esterházy court in Eisenstadt. When Michael moved to Salzburg in 1762 a long period of separation followed, over thirty years, until they again met in Vienna at the end of the 1790s. Michael was actually offered the post of Joseph Haydn's deputy at the Esterházy court, but he preferred to remain in Salzburg. He died in 1806, three years before his elder brother."
Joseph Haydn admired his brother's music: which are the similarities and the differences between them?
"Joseph particularly admired Michael's church music and may have been instrumental in persuading Empress Marie Therese (wife of Emperor Franz) to commission items of church music from him. They shared an enthusiasm for composing symphonies and church music, but Michael wrote far fewer string quartets than Joseph, while Michael wrote many more German songs (secular and sacred) than Joseph. Michael Haydn usually signed his autograph scores 'G. M. Haydn', while Haydn often wrote 'G. Haydn' or 'Giuseppe Haydn'. Not surprisingly, this often led to confusion during and after their lifetimes."
Why is Michael Haydn not popular nowadays as his elder brother?
"He's suffered from being a supporting figure in two careers, Mozart's and Haydn's. The fact that his music was not distributed very widely in his lifetime did not help, also the fact that he couldn't be captured in the narrative of Vienna the musical capital pushed him to the margins."
Michael Haydn was a very prolific composer: which are the five masterpieces you would suggest listening if someone wanted to approach the composer?

I suggest Concerto in C for viola and organ (1761), Requiem in C minor (1771), Missa Sancti Aloysii (1777), Symphony in D minor (1784) and Quintet for clarinet, bassoon, horn, violin and viola (1790)."

In its next concert, Theresia Orchestra will play Linz Symphony by Mozart: which is the importance of this work in Mozart's production?
"Dating from the autumn of 1783, it's a work that both looks back to Salzburg and to later symphonies, including the very last, the 'Jupiter'. It draws on years of experience of writing symphonies and – less often articulated – church music in Salzburg, and looks forward to the grandeur of his next symphony in C, the Jupiter, as, indeed, does the Michael Haydn symphony. A fascinating programme!"

According to your research and your knowledge of the late eighteenth-century repertoire, would you suggest three names of composers from the classical period who have been unjustly neglected and who deserve to be performed more often?
"I'm pleased to see that Theresia Orchestra has performed so many works by Kraus. Here are three other composers of symphonies who deserve to be performed. Johann Baptist Vanhal (1739-1813), Paul Wrantizky (1756-1808) and Anton Eberl (1765-1807)."
In your opinion, what do we gain performing this repertoire on historic instruments?
"Two words always come to my mind: energy and sonority. For the first it's not just energy in fast music, but a sense of easy articulation in slow music and in dance movements too. For sonority, the vivid sense of variegated colour rather than a uniform tutti sound; trumpets and timpani, for instance, are to be heard – they meant something to Michael Haydn, Mozart and others."