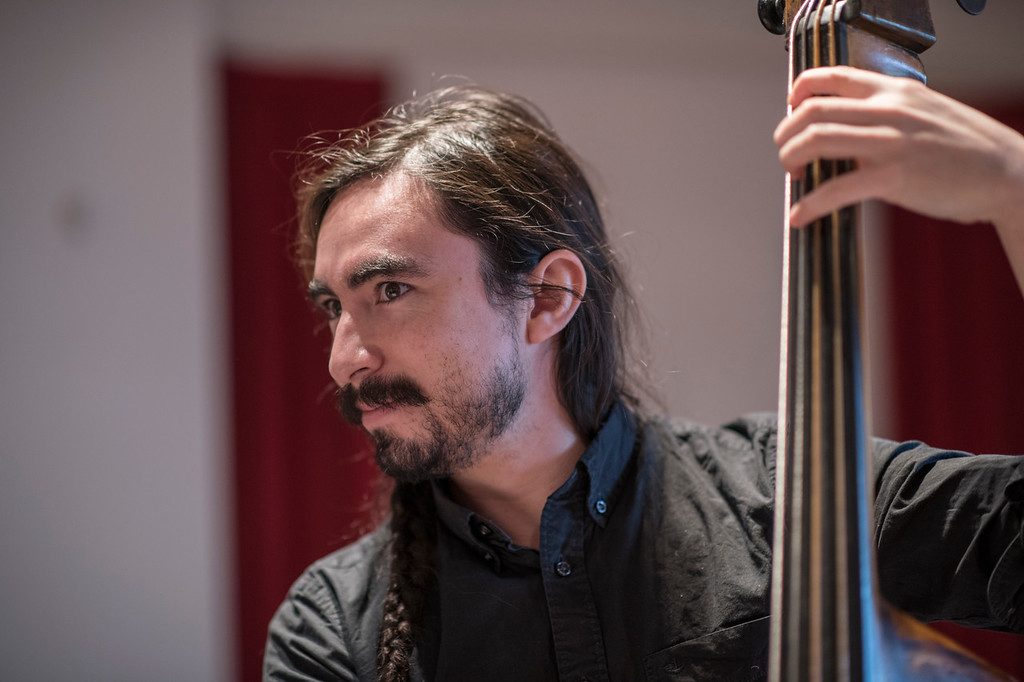 People of Theresia come from many places in the world: double bass player Lino Mendoza, 31 years old, came to study in Europe from Mexico. Let's know something more about this musician, his past and his wishes for the future.
Lino, when did you start to study music and decide to be a double-bass player?
"As a child I didn't have a musical education. Around 15 years old, my brother and me started to have curiosity for music, so we started around that age. In particular,  I started to play the double bass when I was 16, so my childhood was not in a musical education environment. Both of my parents aren't musicians or had any musical formation during their education; however, both of them are big musical lovers. At home in Mexico we listen music very often, and they were always making my brother, my sister and me interested in music and dancing. So I do not come from a family of musicians but from a very musical one."
When did you move to Europe and why?
"I moved more than three years ago, in September 2015. I came to Bern to achieve a Master in Performance at the Hochschule der Künste with David Sinclair."
When and how did you decide to perform on period instrument?
"Since I started with the double bass I've had a lot of curiosity for the instrument and its history: I find it very particular and attractive. Speaking of the period instrument performance, it looked to me like the natural result of that curiosity."
You still perform modern repertoire, and also contemporary, as our readers can see here. How does it work? Do you have two instruments or do you "simply" change the bow? Is it natural for you to switch between them?
"Yes, I still play modern music. Repertoire for modern orchestra is amazing and challenging for the bass and, of course, playing it is a beautiful challenge. The modern bass had an incredible boom during the 20th century and luckily it is still alive in these times: there are a lot of fine examples of it and maybe the music of Stefano Scodanibbio is one of the most refined.
Regarding the period instrument performance, I've been more and more playing chamber and orchestra music with the Viennese violone, in general the one originally thought for this beautiful instrument; the experience is really overwhelming and I try to do it more and more often. With the double bass I use a set of gut strings and I experiment as much as possible with different period bows: I love this huge variety of options!"
When did you join Theresia? How many Theresia's projects have you been involved in and how was the experience?
"I joined Theresia for the first time in November 2015, and by now I've been already involved in four projects. Theresia has a very particular way to bond between the members of the projects: since the beginning you can feel like you are part of a family.  The lovely thing is that every time you can experience the joy of meeting again your colleagues, the wonderful teachers and the people of the organization that make it possible."
Do you see yourself as a student or as a professional?
"I like to see myself as a professional that will never stop learning, and that makes me a life long student."
Do you think that Theresia is giving you the tools to improve your professional status?
"Yes, this kind of performance is an experience that is still hard to find somewhere else in general; working with the experts that conduct and guide the projects has been a vast resource of knowledge for me."
Theresia has a very particular way to bond between the members of the projects: since the beginning you can feel like you are part of a family.
You are from Mexico and study in Europe: is it hard to manage your travels? How do you cope with flight rules?
"In general, inside Europe I travel by train for carrying my double bass; but I've just made two continental flights from Europe to Mexico and back with the instrument and it is very frightening. It's always a mess to fly with a double bass but luckily my instrument has arrived always good.
Mexico is far, so sadly I don't often go over there. But I hope with time I can start going back there more and more, hopefully also to make concerts."
What do you like to do when you aren't playing?
"I used to read a lot: now, I like to watch movies or just have a nice walk in the city, outside in the nature or visiting a nice museum. I also enjoy eating, so whenever I have time I like to cook, even when I have any background in the matter."

Where do you see yourself in five years?
"Five years ago I could not imagine myself doing what I'm doing now so it's a very hard question. Maybe it is better for me to think that I trust in music and wherever it takes me I'm going to be fine with it and my double bass."