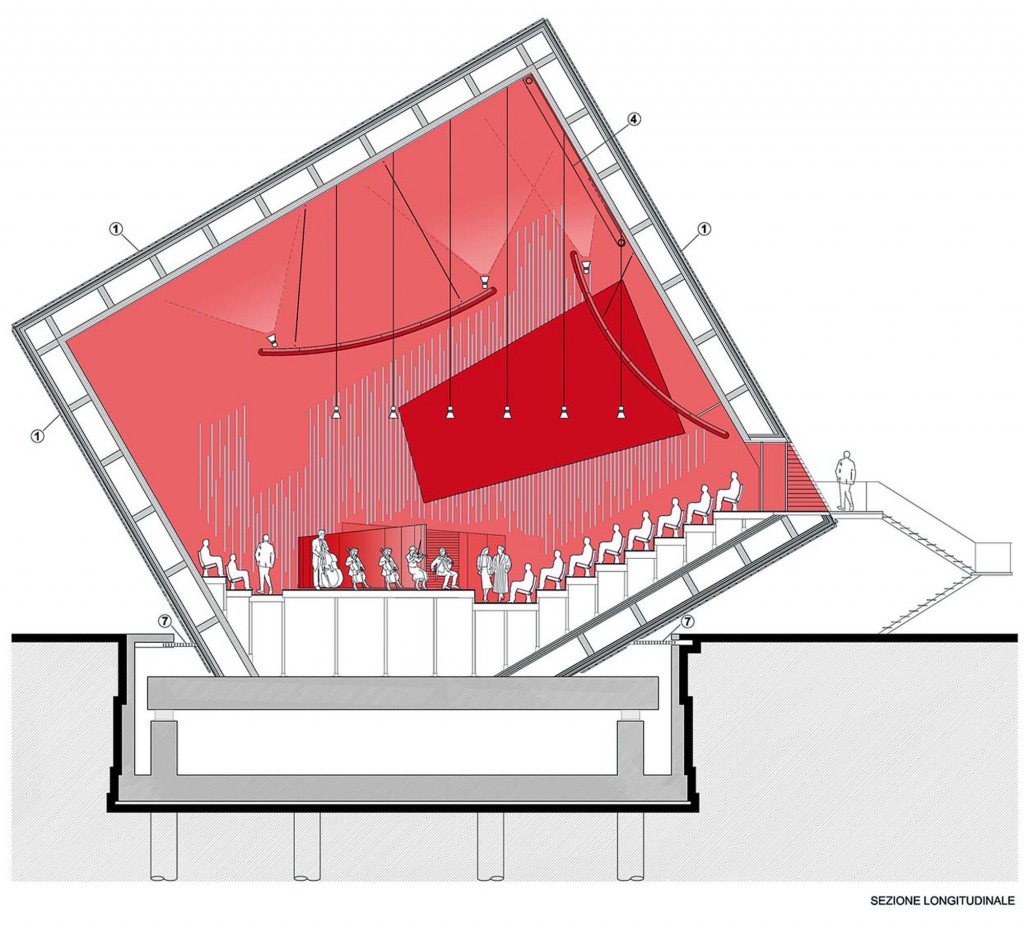 This post begins with a sad story:  the third step of our tour will be in the city of L'Aquila, in a really special place, literally born on the rubble and intended to help struggling people through music.
On April 6, 2009, an earthquake of 6.3 magnitude struck central Italy with its epicentre near L'Aquila. Initial reports said the earthquake caused damage to between 3,000 and 10,000 buildings in L'Aquila. Several buildings also collapsed. 308 people were killed by the earthquake, and approximately 1,500 people were injured. Twenty of the victims were children. Around 65,000 people were made homeless. There were many students trapped in a partially collapsed dormitory. The April 6 earthquake was felt throughout Abruzzo; as far away as Rome, other parts of Lazio, Marche, Molise, Umbria, and Campania.
It was a disaster of enormous proportions and music and culture weren't safe too: in a town rich of music like L'Aquila, with a big and lively Music Conservatory and many musicians performing in local concert seasons, the
grave damage of the Castello Spagnolo concert hall seemed to be a hopeless wound.
The famous architect Renzo Piano was one of the first people to realise that it could be a very long time before the city would be back to normal and that building a place to protect musical traditions would be a positive way to start the healing process. He made himself available to design a new concert hall, with the moral support of the conductor Claudio Abbado, that proclaimed that the new auditorium was a "a building of great symbolic value".
The Auditorium del Parco in L'Aquila was built as a temporary substitute to replace the Castello Spagnolo concert hall and was inaugurated in October 2012 with the Orchestra Mozart conducted by maestro Claudio Abbado. It is an ensemble of three pure volumes – a trio of cubes set at seemingly random angles, a bit like dice thrown on an uneven surface – housing the 238-seat concert hall, the foyer and dressing rooms. The separation of the various segments and the flow of movement through simple, adjacent and connected structures was at the root of the design of these square wooden boxes. Wood was chosen for its acoustic properties, but also because it is flexible, more resistant to earthquakes, less invasive and can be easily prefabricated and quickly assembled. The Auditorium construction site was also turned into an educational opportunity by Renzo Piano Building Workshop and the Foundation, a chance for graduating engineering students from the universities of L'Aquila and Trento to get some real hands-on experience. Their involvement in the construction was a clause in the job bidding process, a first in Europe.
Renzo Piano exlpained: "We used the wood of Val di Fiemme in Trentino, the preferred wood by the great violin makers since the time of Stradivari. All three blocks of the auditorium (concert hall, rehearsal room and restaurant) are made of wood, in order to be disassembled and rebuilt elsewhere. I was inspired by the many buildings and wooden temples built in Japan, which is the most seismic country in the world."

Theresia's concert in Autorium del Parco is scheduled for Sunday 10, at 18th: we are sure it will be a great emotion. Stay tuned for our photos!