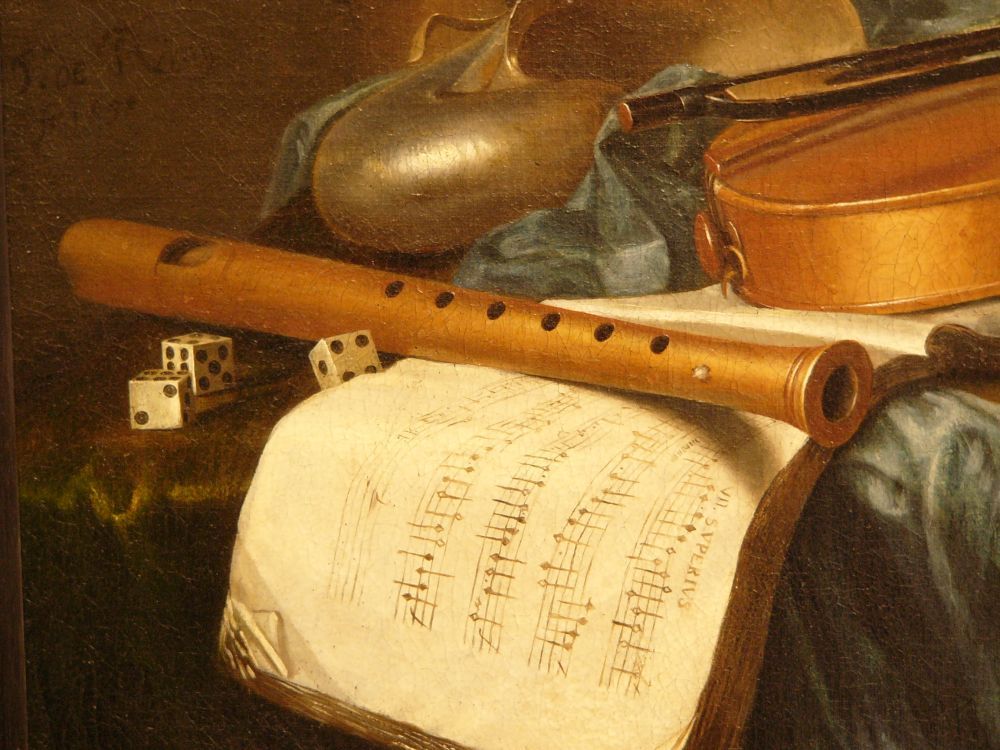 Out of an early musician's toolkit: sight-reading
By Léna Ruisz
May 12, 2023
Happy 10th anniversary to me! It's hard to believe that it's been a decade since I began my journey with the baroque violin. In honour of this milestone, I wanted to take a moment to reflect on my journey so far and share some of the insights I've gained along the way.
When I first started playing the baroque violin, I quickly realised that it was about more than just mastering the instrument, gut strings, bows, pitches and tuning systems. It was about individual interpretation, sound, colour and understanding of music. With this approach comes freedom – and responsibility. How do we use it well?
This question came up in a quartet rehearsal last year, and since then I was asking around among my colleagues discussing the essential skills that an early musician needs, and how to improve them. The brainstorming session resulted in a list of skills, literature, and pieces that are believed to be important for any early musician – with a focus on repertoire for violinists.
Sight-reading
As an early musician, it's important to have a strong foundation in sight-reading. This skill allows us to tackle last-minute gigs, late-night sight-reading sessions, and projects where we may not have had much preparation time. But it's not just about being able to navigate the technical aspects of the music. Sight-reading is also a great way to get to know the instrument and the basic repertoire, form an opinion about different styles of music and develop our own musical taste. It can also help us to show confidence in performances, as we are able to take on unfamiliar pieces with ease.
To improve sight-reading skills, it is helpful to practice it regularly, even if it's only for a short amount of time as part of your daily routine. A practice buddy is also great to have, as this can make the sight-reading sessions even more fun and takes the pressure out of it – not to talk about the benefits that frequent sight-reading sessions can bring to the table as an ensemble! In my experience, the sound, focus, listening skills, and overall performance might greatly improve…
In order to have a better overview, I came up with a list sorted by the instrumentation of the pieces, so there is something for everyone in every setting!
Solo repertoire
Are you new to the baroque violin and still need to find out how the bow works and how gut strings react? Then the relatively simple but entertaining pieces of the Dutch tune collection Musyk Voor De Fiool might be just the thing for you! Tartini's L'arte del arco rightly bears the ever-cursed nickname L'arte del Trillo. In these 50 variations on a Corelli melody, you will not only master the bow but also build up some respectable muscles in your left hand.
My personal favourite, which I have played again and again since the beginning, is Guillemain's Amusement pour le violon seul, which literally means "having fun with the violin." I can definitely confirm the fun part, but I might add, that the gradually more difficult pieces lead to 12 Capriccios, which sometimes even put Paganini in the shade.
Practising sight-reading in the solo repertoire should not, of course, consist only of technical pieces. For those who prefer to experiment with solo pieces outside the realm of Bach, solo Sonatas by Pisendel, solo Fantasies by Telemann or the Passacaglia by Biber are worth a look.
Duo literature
It is a bottomless pit, for almost all violin schools from the 18th century were written in a form in which teacher and pupil could play together – and the duo literature of this period is also extraordinarily rich. This is not only fun but also helps to develop intonation when playing with others or to match the sound (which can be very useful if the two violins playing also have a quartet together, for example).
Besides the obvious choice of Spohr's or Baillot's Violin Schools, the book of 8 Canons Mélodieux by Telemann, and the duo collections by Guignon and Leclair are all great choices for a sight-reading session!
Solo and continuo literature
This is perhaps the richest of all the categories, so I won't even attempt to give an overview – I'll just mention some of my selections when it comes to basic pieces: Beginner pieces in this category include Corelli's Op.5 Nos.7-12 and Veracini's Op.1, while more advanced pieces might include Corelli's Op.5 Nos.1-6, Veracini's 12 Sonate Accademiche, Op.2, and Telemann's 12 Sonate Metodiche. One can look at the repertoire of Vivaldi, Händel – Francœur and Senaillé on the French side – but the list is endless.
These pieces are not only great musical and technical challenges, but also give a chance to get used to reading manuscripts and first editions, which can be a valuable skill in itself…
I hope these insights and recommendations are helpful for other early musicians out there. It's been a rewarding journey for me, and I couldn't be more excited to see what the next 10 years have in store!