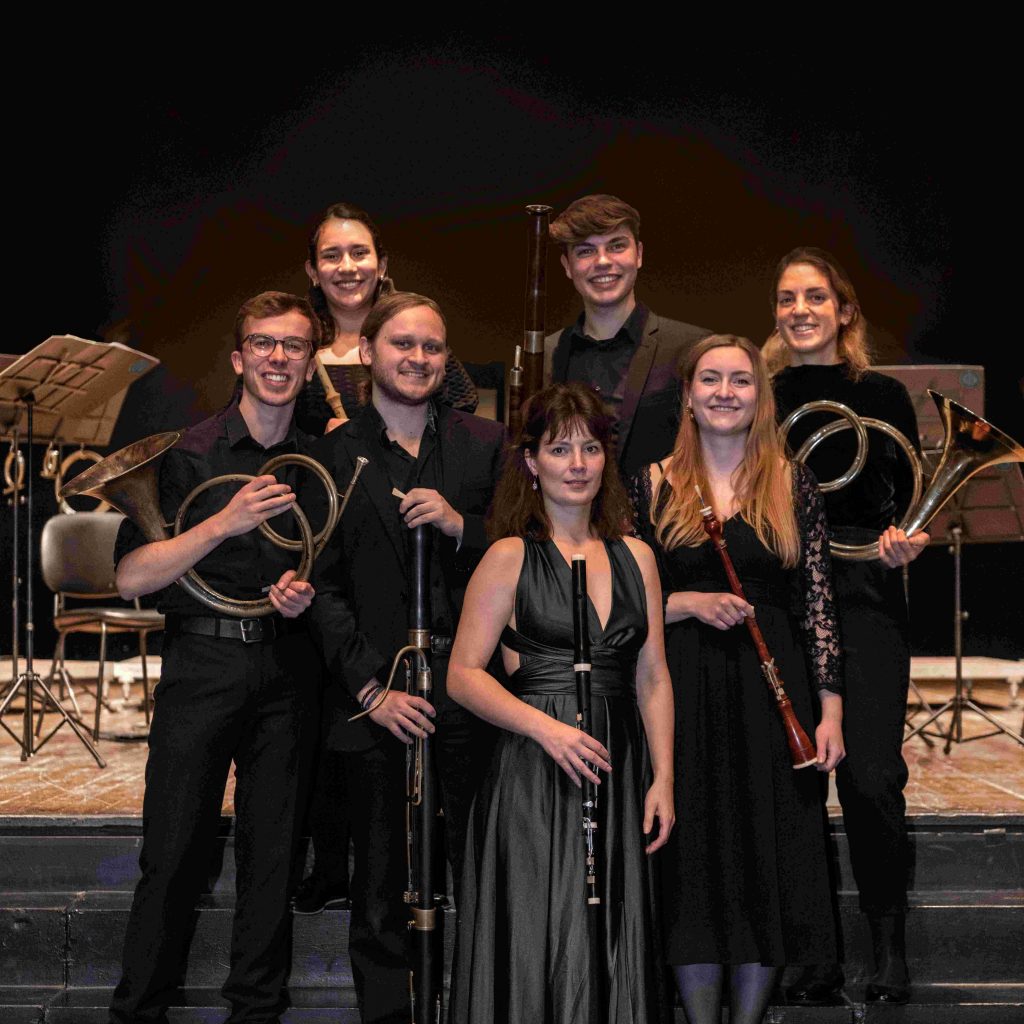 What is that makes special an orchestra like Theresia and defines it as a true classical orchestra? Two things, in fact: playing according to the historical informed performance principles, and playing the classical repertoire, i.e. music composed between 1750 and 1815. These two boxes we can definitely tick, and speaking of repertoire, we are never tired of exploring it, always deepening our knowledge and awareness of the incredible richness of classical music.
And actually, there is a third one: performing chamber music. Aside from being a powerful opportunity to improve technical aspects and widen the repertoire, chamber training facilitates mutual musical knowledge among ensemble members, with benefits for the quality of the work of the entire orchestra.
Our wind ensemble for example is at the centre of a chamber music residency twice a year. This is the case of the next project, which will take place from 2nd to 9th May in Lodi, with concerts in Lodi, Trieste, Capodistria, Turin.
The musical program is usually devoted to wind chamber music of the Viennese style, and so it is this time. Under the guidance of oboist Alfredo Bernardini, eight selected members of the orchestra will rehearse and perform music by Mozart, Beethoven and Krommer.
Franz Krommer was one of the most long-lived composers of the classical era: his 72-year lifespan began in 1759, half a year after the death of George Frideric Handel, and ended in 1831, nearly four years after that of Ludwig van Beethoven. His output was prolific, with at least three hundred published compositions, including much sonorous, idiomatic and at times powerful music for wind ensemble, for which he is best known today. Theresia wind ensemble will perform his Partita in B-flat major.
As for Mozart, we looked for something not obvious: our wind ensemble will perform an arrangement by Johann Nepomuk Wendt of Die Entführung aus dem Serail. The selection includes seven highlights of the opera, starting with the Ouverture.
The musical program will end with Beethoven's E-flat major Octet, op. 103: it was composed in 1792 in Bonn, intended for Prince-Elector Maximilian Franz's excellent Tafelmusik ensemble. Beethoven was so satisfied with his own musical invention that three years later he transcribed it for string quintet. The Octet itself remained unpublished until the death of the composer.
Musicians involved in this new project are Laura Hoeven (Austria) and Paulina Gómez Ortega (Colombia) – oboe; Claudia Pallaver (Italy) and Jonathan Van der Beek (Belgium) – horn; Luís Tasso Athayde Santos (Australia) and Angel Alvarez (Cuba) – bassoon; Franziska Hoffmann (Germany) and Simon Pibal (Austria) – clarinet.
Fondazione Cariplo contributed to this residency as part of the project "Alla scoperta degli strumenti a fiato dell'Orchestra Theresia" ("Discovering the wind instruments of Theresia Orchestra").