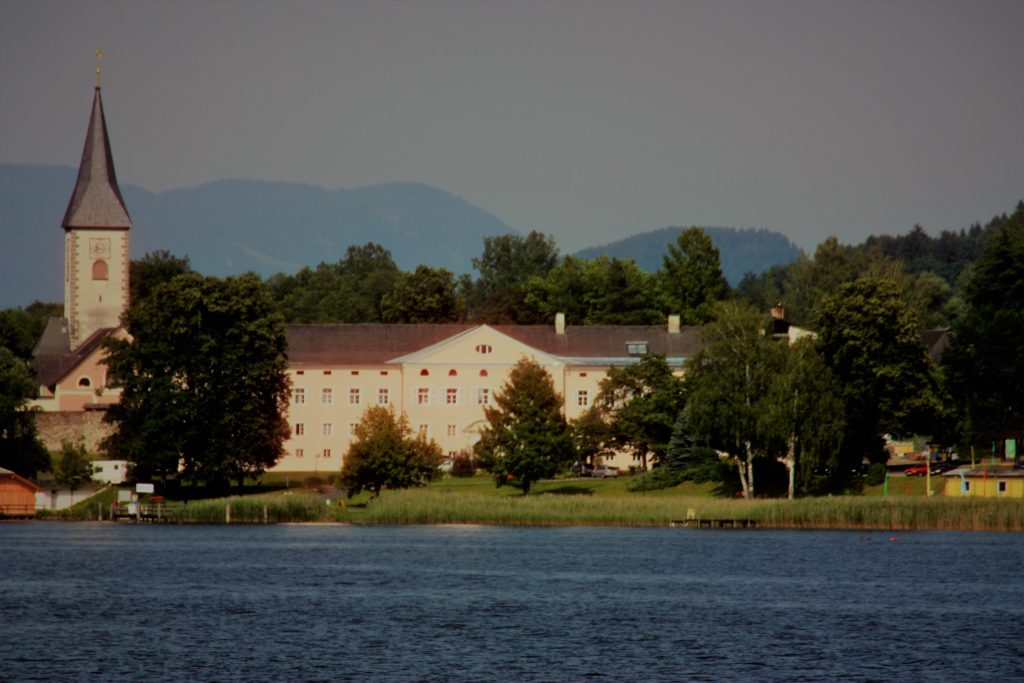 There's a place in the heart of the Alps that from time to time becomes our house. It's a magical place, devoted to music, thanks to the Carinthian Music Academy (CMA) which has so far been our partner in two projects we held there. The name of the place is Ossiach, a little village in the South of Austria, famous for the historic Ossiach Abbey, with its Baroque collegiate church. Today the former 11th-century Benedictine monastery is a renowned cultural centre, beeing the venue of the Carinthian Summer international music festival and the Carinthian Music Academy.
Talking about CMA, it was founded in 2009 with the mission, as chief of administration Ulrike Baumgartner told us, of being "a competence centre for further education and training. The CMA has quickly established itself as a popular meeting place for music and culture enthusiasts of all genres. Besides the regular course program, the CMA also offers the perfect infrastructure for events at two locations: Ossiach Abbey at Lake Ossiach and the Music Center Knappenberg high up above (second location, about an hour away from Ossiach, founded in 2007)". The activity of the centre is intense, as it "organizes itself the concert series and supports organizers in conducting their concerts. Around 150 concerts and competitions take place annually". It hosts "mainly Austrian musicians. But also musicians from all over Europe and American universities visit the CMA for rehearsals." As everywhere, Covid affected CMA activity: "In 2020 and 2021, the academy had to stay closed for several months. Of course, there had been numerous cancellations, especially for concerts. Many rehearsal phases and courses have also been postponed."
Luckily, activity has now restarted at full pace, and a new Theresia project is going to take place from 14 to 19 March, with the renowned violinists Chiara Banchini and Emilio Moreno as tutors, and a program devoted to string quartets, mostly by Boccherini but also by Mozart, Haydn and Pleyel. A concert at Kultur Forum Amthof will close the residency.
Looking back to our past projects in Ossiach, our first residency was in October 2018, with conductor Chiara Banchini, and Petr Zejfart as a tutor for wind players. The residency was devoted to the connections between Haydn and Joseph Martin Kraus, a composer we love: performing Haydn's Ouverture from "L'Isola Disabitata" and Symphony n. 81 and Kraus's Symphony in C major "Violino obbligato" with Gemma Longoni as soloist was a wonderful way to commemorate the meeting between the two composers. They met in 1781 and Haydn wrote a letter to the Swedish ambassador describing Kraus as "The first genius I ever met". In 1781 Kraus spent quite a long time between Vienna and Estheraza, where he also conducted several works by Haydn.
The residency was intense and followed by two concerts, one in Ossiach itself and one in Munich, our first performance in Germany!
The second residency, we remember it very well, because it was in February 2020 and it was the last one before the prolonged pause due to Covid restrictions: it was a chamber music project, and the main tutor was Chiara Banchini again, together with cellist Marco Testori. Haydn's String Quartet in G major op. 77 n. 1 and Beethoven's String Quartet in c minor op. 18 n. 4 were deeply studied and rehearsed and performed in a concert at Palazzo Veneziano in Malborghetto, a lovely village just beyond the Italian border, which happens to be another place we truly love.