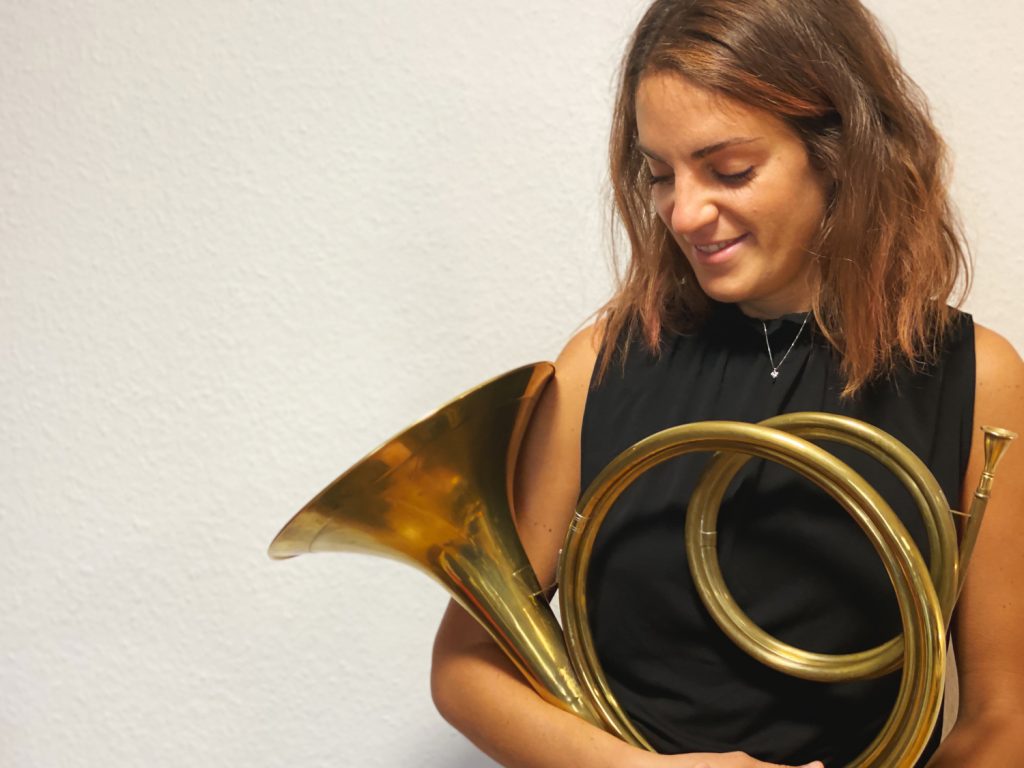 Italian horn player Claudia Pallaver has been playing with Theresia since 2018. Both horn and piano player, she has a lot to tell: let's get to know her better!
Claudia, how did you start to play horn and when did you decide to focus on period instruments?
I grew up in a family of musicians: my parents are both horn players (my father has been second horn of the Arena di Verona's Orchestra for 30 years) and my sister is a pianist. I started to study piano at the age of 5 and only later, when I was 14 years old, I set about studying horn.
I carried on the study of both instruments, graduating at the Conservatory of Verona E. F. Dall'Abaco. The first encounter with natural horn was on the occasion of my graduation: as a matter of fact, among the several exams I had to take in order to get my diploma, I was supposed to perform a short piece playing the natural horn. I must confess I don't remember being particularly fascinated after this first meeting… the horn had been in the storeroom for such a long time that it had a terrible musty smell!
How and when did you change your mind?
My passion for natural horn grew up later, thanks to Prof. Dileno Baldin, with whom I studied at the Conservatory of Vicenza. For the first time I felt the possibilities and potentialities of an instrument that I had previously classified as an old "stinking dumpster". Thanks to Dileno, who opened me a window onto the fascinating world of period instruments, I decided to further my studies in Leipzig in Germany, at first as an Erasmus student, then attending the F. B. Mendelssohn Conservatory in the same city. There I had my first experience in a period instruments orchestra, and I continue to discover a world that I didn't know before.
Let's talk about your experience with Theresia: what was the first project you were involved in? And the latter?
I started playing with Theresia in 2018, after hearing about it through friends who were already playing or had played there in the past. My first project was set in Malborghetto: we played Kraus's Symphony in C minor and Mozart's Ouverture from "Le Nozze di Figaro" and Symphony n.35. My latest residence with Theresia was in summer 2019 in Rovereto: we recorded the whole corpus of Kraus's Ouvertures, followed by concerts in Milan and Bolzano. Both projects were under the baton of Claudio Astronio.
What have you learnt while playing with Theresia during these years?
With Theresia, I learned what it means to create a synergic group of people of different nationalities who have a common goal, namely making music. In all the projects I participated in I was very fascinated to see that not only the study and the daily rehearsals improved the quality of the orchestra but also our spare time was important: we would spend most of it cooking together, organizing soccer tournaments, volleyball, walking or jogging, and also reading new pieces of chamber music without too many pretensions but only for the sake of discovering new repertoires. With Theresia, I learnt what it's like to be part of an orchestra.
The next project you will be involved in will be under the baton of Alfredo Bernardini, a conductor you have previously worked with. What do you like most about Maestro Bernardini? Being himself a wind player makes things more interesting for you?
I am happy that Alfredo is going to conduct the project in November. I like having him as our conductor because he is very charismatic and can convey a lot of tranquillity; moreover, he has clear musical ideas and manages to communicate them very well to the orchestra. Often it happens that the conductor poses a step on top of all the musicians. With Alfredo, this is not the case: he behaves like he is a component of the orchestra like all of us, without any superiority.
Theresia's member come from all over the world: what this international nature of the orchestra means to you?
I love Theresia's internationality: every residence, even though it is in Italy and not too far from home, it seems like I'm travelling around the world thanks to my partners' shared experience.
Recently you were involved in a CD recording: what was it about?
I was in Erlangen all last week recording a CD for Alpha classics with the Hofkapelle München orchestra. We recorded arias from the classical period on a theme from Mozart's Zaubeflöte, obviously playing original instruments, and with Konstantin Krimmel, a very talented baritone.
What do you do when you are not playing in the Orchestra?
At the moment, as I also graduated in piano, I alternate playing the horn with my work as a piano accompanist at the Conservatory of Leipzig, a position that I won two years ago. Then, I really love chamber music and I'm part of different ensembles with whom I play both classical repertoire and arrangements written on purpose for us.
Where do you see yourself in ten years?
In ten years, I hope to have still more to discover. But, if I have to pick out one thing, in ten years I wish I will have travelled and have done at least once a tour in South America playing Bach's B minor Mass or Bach's first Brandenburg concert!