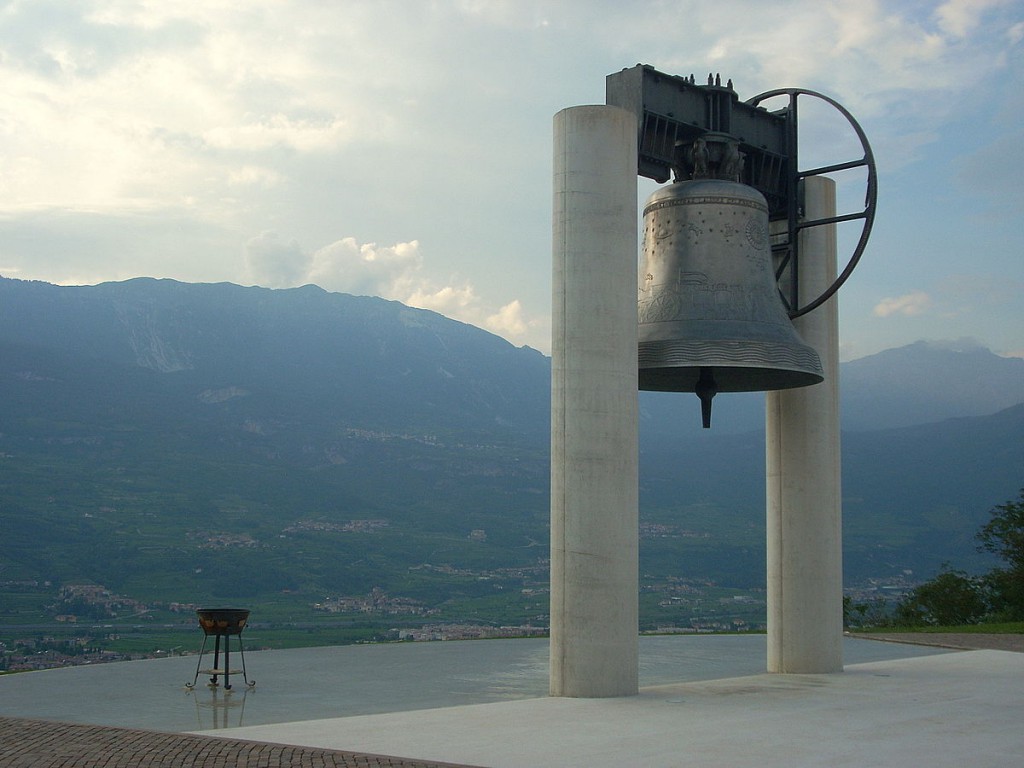 It is the largest bell in the world to sound at full peal ad it was cast with the bronze of the cannons of all the nations participating in World War I: it is the Bell of the Fallen (Campana dei Caduti) a monumental bell set on a hill overlooking Rovereto.
Every day at twilight its hundred tolls are a testimony of world peace.
Born from an idea of Don Antonio Rossaro, Rovereto's Campana dei Caduti was cast in Trento in 1924 with the bronze of the cannons of the participating nations of the First World War. Baptized with the name Maria Dolens (i.e. sorrowful Mary), it was first placed on the Malipiero tower of Castello di Rovereto.
The Bell, recast in Verona in 1939 was returned to Rovereto exactly one year later. In 1960, following a serious and irreparable crack, , Maria Dolens was recast at the Capanni foundries in Castelnovo Né Monti (Reggio Emilia). The current bronze, blessed by Pope Paul VI, was placed on the Colle di Miravalle on November 4, 1965, from where it continues to tower over the entire city of Rovereto.
Theresia Youth Orchestra will perform in this extraordinary place on August 26, for the last of the three concerts of the summer tour. But it is not the first time that Theresia performs at this venue: two years ago the orchestra was hosted here for a concert, but, unfortunately, due to the bad weather conditions the concert was held inside the expositive spaces of the Fondazione Campana dei Caduti.
Attending at the concert will be an intense and unforgettable experience: it is possible to book tickets writing us a mail.
In the meantime, enjoy some pictures of the 2014 concert: