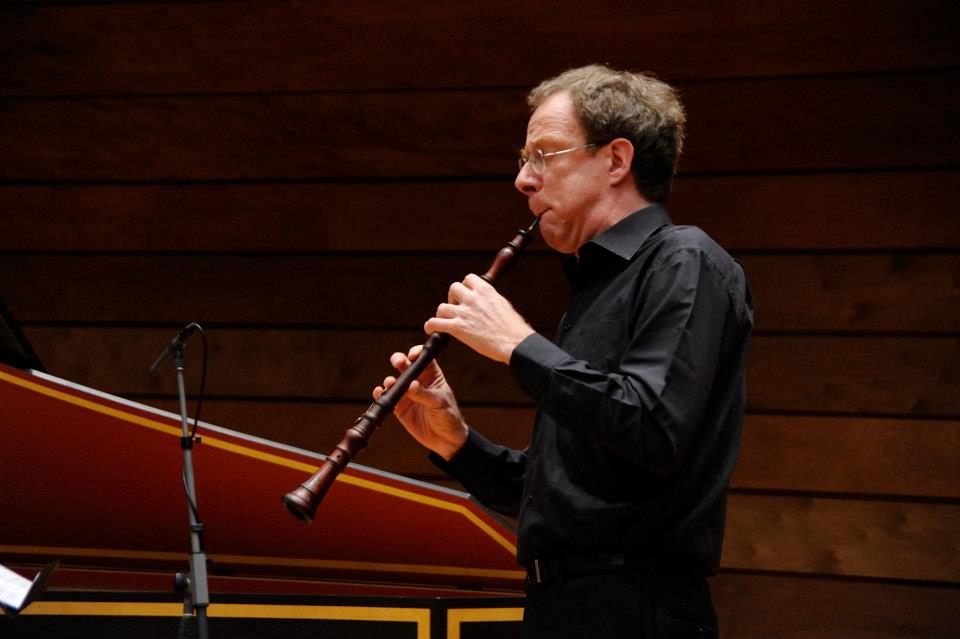 Alfredo Bernardini and the art of "staying-well" in orchestra
By Emilia Campagna
February 10, 2016
Theresia Youth Baroque Orchestra will have a new conductor: beside the violinist Chiara Banchini and the organist and harpsichordist Claudio Astronio, our Youth Orchestra gains a prestigious name: the oboist Alfredo Bernardini will conduct TYBO during the summer concert tour and will also be part of the jury in the auditions to be held in May in Venice.
Born in Rome in 1961, he moved to The Netherlands in 1981 to specialize in Baroque oboe and early music with, among others, Bruce Haynes and Ku Ebbinge. Nowadays his career as a performer and as a teacher is international and takes place on the most prestigious stages.
"I am both a concert performer and a teacher: as a teacher, for 22 years I've been teaching Baroque oboe at the Conservatory of Amsterdam, until June 2015, when I moved to Salzburg Mozarteum. I'm always in contact with young students that are devoting themselves to early music. Oboe players, of course, but also other musicians with whom I work on performance and research projects. And this is a beautiful part of my job: playing with young peoples makes me stay "present", and while one teaches, one learns too. Concerts with Ensemble Zefiro are the main part of my activity as performer: beside this, I work with many orchestras. I'm principal guest director of Concerto Copenhagen; I conduct the Norway orchestra Barokkanerne and, in Canada, Arion and Toronto Tafelmusik. I often work with youth orchestras, like Seoul Bachsolisten: also in this case, working with young musicians is a reason of great satisfaction. They possibly have less experience but much more enthusiasm: and it is contagious."

Talking about youth orchestras, you have been invited to conduct Theresia: the first concerts will be in August, can you anticipate something about the program?

"I can say that the program will be dedicated to "Sturm und Drang": it was a philosophic movement which exalted all human feelings; likewise, music sets against thrills in an exalted way. In the program we will put together music of renowned composers with music of less famous ones: I love this kind of operation."

Will you play your oboe while conducting Theresia?

"I won't: Theresia plays a classic repertoire and this make not practical playing while conducting. I really love playing my oboe with the ensembles that I lead, but I usually do it only with baroque orchestras: in these cases I can manage the disposition of instruments in such a way as to be seen by all the players without being outside the orchestra. Moreover, Theresia will have two oboe players, and definitely I do not want to take away their space!"
What do you think about the artistic concept of Theresia, a youth orchestra devoted to classical repertoire performance on period instruments?
"I think that it fills a gap and it gives a precious opportunity to young musicians who devote themselves to early music, the opportunity of improving in classic repertoire performance on the proper instruments. Surely there are similar enterprises, but they are mostly dedicated to Baroque music, composed in the first half of Eighteenth Century: I'm thinking to EUBO, that was founded in 1985 (I remember it well because I was a member of Eubo at that time…) and other ensembles and orchestras: they guarantee a high level training but for a different repertoire than Theresia. At a professional level the demand of performers well prepared in this field has been increasing, so an initiative like Theresia is really necessary, and I'm so happy that Mario Martinoli understood this need. Then I hear around that young musicians who perform with Theresia are very satisfied and there is so much enthusiasm for the orchestra."

In May in Venice are scheduled the yearly Auditions to select new musicians: this year the artistic director has chosen to combine workshops with TYBO conductors and the auditions: what do you think about?
"I think it's a great idea. It makes no sense to rely uniquely on individual auditions in order to select the components of an orchestra: maybe a musician is technically strong, but will he be able to listen to his colleagues and "shape himself" on the whole orchestra? Or, on the other hand, maybe one is not so brilliant on the virtuoso side but he is good in listening others, understand and realize instantaneously changes of sound, time and volume."
What will happen during the workshops?

"It will be a simulation of a real work experience, when you have some day of rehearsals in preparation of a concert. In my case, it will happen in chamber groups from quartet to octet. It will be something in between the traditional hearing that aims to identify the individual skills and a job that will bring to light the team work. It's something so much needed in my opinion: I often meet musicians who aren't comfortable and don't stay well in the orchestra."

What does it mean exactly "staying well in orchestra"?

"It means that one understands his own role, and he's responsive to parameters like tuning and agogic. But there is also a problem of character and behavior when someone wants to be right whatever it costs: playing together is never a matter of being right or wrong."
A memory from "the other side of the fence": how were the auditions you did as a student?

"Actually I did very few auditions, because I often had the good fortune of being in the right place at the right time: when it happened to me, however, I tried to address it philosophically. Unfortunately in traditional hearings one feels under interrogation and the stress can spoil the execution. When I was young the English Consort proposed me an interesting method: they invited me to play for a few concerts, so to "test"my instrumental skills, certainly, but directly into the ensemble."

How do you recommend students to prepare for auditions?

"Obviously one has to be technically prepared. But it is not enough. You have to know the repertoire, the biography of the composer, the context in which he worked: the study of music history is the flag of all the early music movement, also because just knowing the composers so-called "minor" one can fully understand how to perform the "big" ones . At last, there are candidates who ask me if they are allowed to play the modern instrument, or, in the case of Theresia, Baroque: to all them I say no. It is required to play the classical instrument, so sharply different from the modern or the Baroque one and the young musicians need to understand that it is essential to use the instrument proper to the repertoire. "