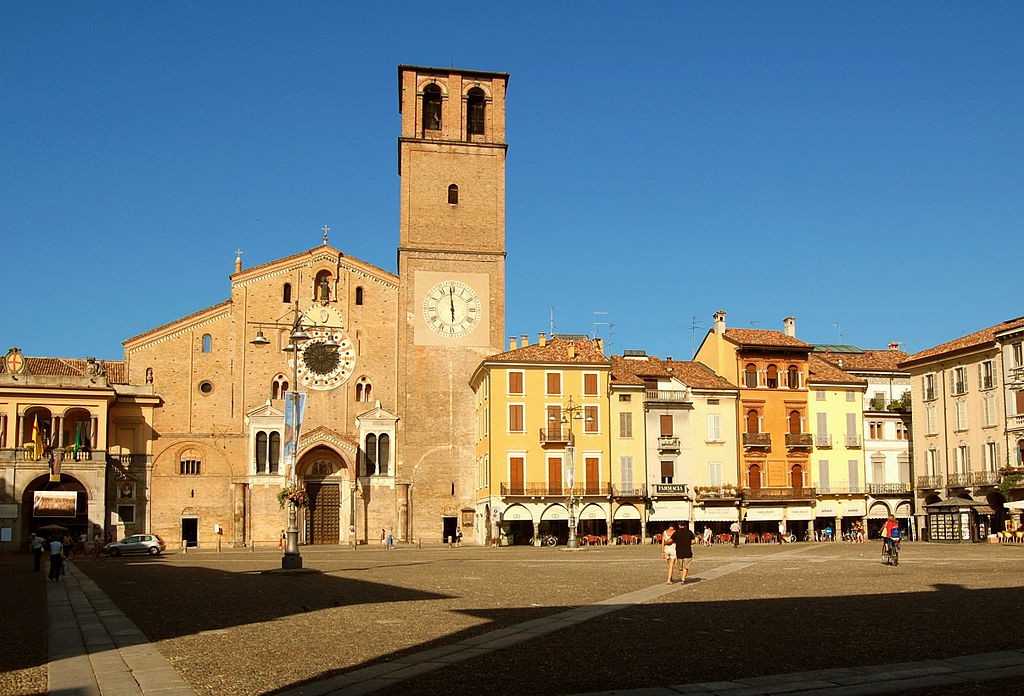 Lodi is a beautiful town: enjoyable and not too big, it is a stone's throw from Milan, where in these days they are inaugurating Expo 2015. The town has a wonderful richness of medieval palaces and churches: the town that we see today was founded in 1183 and for a long period it used to be one of the most important towns in Northern Italy.
Formerly Lodi was a Celtic village; in Roman times it was called in Latin Laus Pompeia and was known also because its position allowed many Gauls of Gallia Cisalpina to obtain Roman citizenship. It was in an important position where a vital Roman road (via Emilia) crossed the River Adda. In Medieval era, it became a free commune and it fiercely resisted in a war against Milan, but it was completely destroyed in 1111 ad rebuilted a few decades later by Federico Barbarossa.
Today Lodi is a town that every tourist should visit: Piazza della Vittoria, its major square, has been listed by the Italian Touring Club among the Most Beautiful Squares in Italy. Featuring porticoes on all its four sides, it includes the "Basilica della Vergine Assunta" and the Broletto (Town Hall). Lodi retains its mostly Medieval layout; moving on through Piazza della Vittoria the visitor arrives at the Church of Sant'Agnese, where Theresia Youth Baroque Orchestra will held he first concert of its vernal "Quirinale Tour". In its austere, Medieval appearance, the Church of Sant'Agnese dates from the 14th century: the church is a spectacular example of Italian Gothic architecture, with typical terracotta cladding of the precious facade, a large rose window, a portal framed by floral motifs; semi-columns in brick are the typical elements of verticality of the facade.
The interior has three naves with robust cylindrical pillars supporting ogival arches, with non-rib vaulted cross vaults, which end with a polygonal apse, with a vault with arches with toroid rib vaults.
In the first altar to the right note the large polytich "Galliani" by Alberto Piazza; while the central apse houses a valuable Crucifix of the XV century.
Maybe our musicians will find the time for a walk in the beautiful streets of Lodi: they will stay in town from 5th to 8th May, thanks to the partnership with Comune di Lodi, Amici della Musica and Collegio San Francesco.The partnership is very important for the orchestra, as Mario Martinoli, our Founder and Artistic Director, explains: "Lodi, through its cultural institutions, has joined our project, sharing the international nature of training and promotion of young talents: our musicians come from all over Europe, someone even from Japan. They study in the major music schools in Europe, and we select them through annual hearings. Having the opportunity of a residence in Lodi, which is also so easy to reach, is therefore an important support to our work: we are grateful to our partners. "
We hope you will come to the town and hear our concert in Chiesa di Sant'Agnese on 8th May. By the way, we'll let you know how the sound of the orchestra will be inside such an ancient beauty!