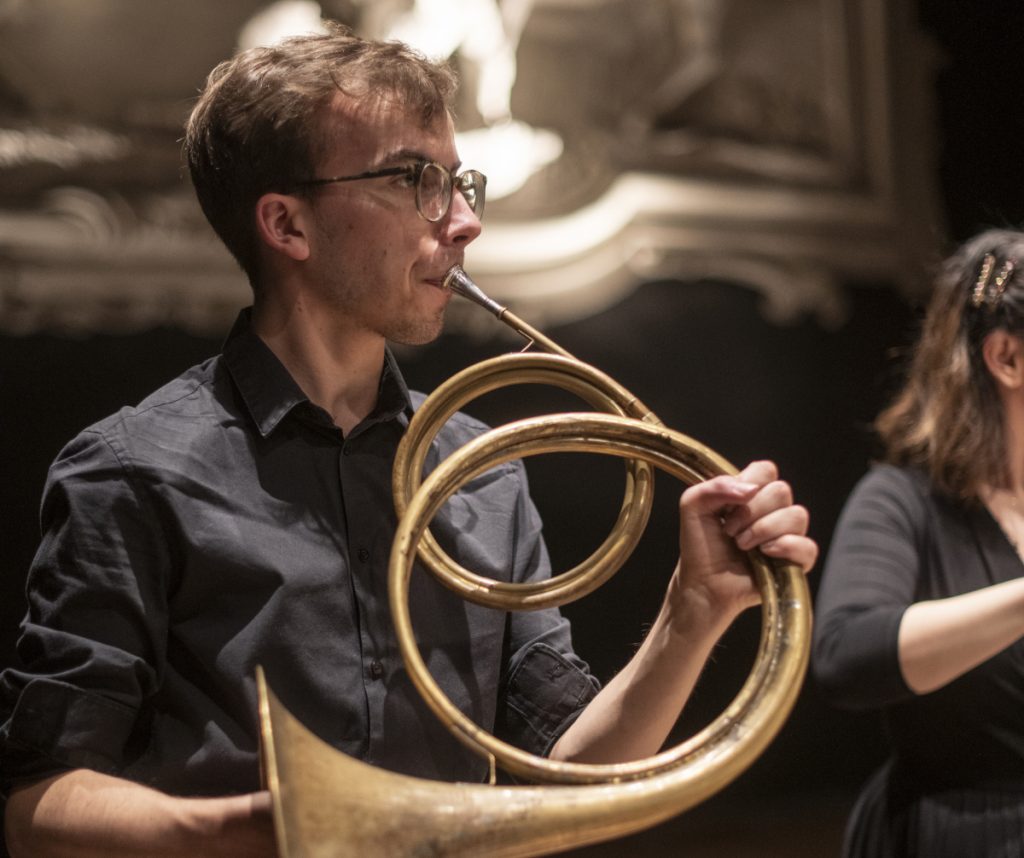 Jonathan van der Beek, Belgian horn player, joined Theresia in 2021: let's find something about his passion for music, his experience and his expectations.
Tell us something about your musical story: how did you start playing and when and why did you decide to focus on the historical instrument?
I wanted to play the horn from a very young age on – I think that happened when I was four years old. My parents had this CD from Peter and the Wolf (Prokofiev) where the horns represent the wolves. I fell in love with the warm sound of the horn and when I was old enough, I immediately started in the music school. My first teacher in music school, who would be my horn professor in the Conservatory later on, was a horn player but also a phenomenal natural horn player. I listened a lot to his CD's where he plays the natural horn, and that's why I have always been interested in it. I started studying the modern horn but when the Coronavirus crisis left us all without any goals I decided to enrol for an audition and start practising the natural horn. Furthermore, I fell in love with the instrument and its sound. Some months later I played my first projects on natural horn, and nowadays I am very happily combining modern horn with the natural one.
How did you know about Theresia?
The first project I ever played on natural horn I played together with Rodrigo Lopez Paz who told me about Theresia. I went to search for Theresia on the internet, and it seemed like an opportunity I didn't want to miss. So, I signed up for the audition.
You auditioned for Theresia in the summer of 2021: how was it, and which pieces of advice could you give to some colleagues of yours who may take part in the next auditions?
The only advice I can give is that you should really go there! Normally, an audition is a quite frightening and sometimes disappointing experience. In the case of the Theresia audition, this was exactly the opposite. It is called an audition because they are making a selection in the end, but it felt more like a workshop or even a masterclass in a beautiful environment. We got to prepare certain pieces, and we had to 'rehearse' in front of a jury the whole day. This made me very comfortable as I wasn't judged only on the 5 first minutes of playing. When I went out of the audition, I was just so grateful that I got the opportunity to work with Alfredo Bernardini and all the great musicians that participated. If I were not selected, I would still take this great experience home.
You took part in the latest project, a wind academy with tutor Alfredo Bernardini. How was it? What did you like more about this experience?
I had a great time at the wind academy, especially because the group of musicians and friends we played with was so close. We had a lot of fun playing the music, but also outside the rehearsals. I like very much that we got the opportunity to play 4 concerts in 4 different cities. It was exciting to have to deal with another acoustic every time.
You worked with Maestro Bernardini both in an orchestral and in a chamber music project: which was the difference between the two experiences?
Both times were unforgettable experiences, but there was a clear difference; Alfredo was really the conductor in the orchestra project, while he was more like a coach in the wind project. I really like his way of working and experimenting with the group of musicians he works with. This was similar during both projects.
During the residency, you were presented with the EMPOWER project, an initiative funded by the EU: what do you expect from it? How do you think working with Theresia can "empower" you?
Foremost, I want to say that Theresia already empowered me in developing my skills as an instrumentalist. About the particular EMPOWER project: I am looking forward to gaining more knowledge in the domain of historical informed performance, and I am also interested in the more 'economical' subjects of the course. I think this combination of residencies with the orchestra, chamber music projects and specific courses in domains where I am very much interested in, will empower me the next years as a musician, thanks to Theresia Orchestra.